Judy's Work
Current Position:
<![if !vml]>

<![endif]>
In my role at the Federation I am responsible for ensuring the Federation's vision of building a vibrant, cohesive, and inclusive Jewish community. The role taps my ability to identify assets, diagnose dysfunctions, engineer solutions, ensure effective organizational dynamics, and ignite forward momentum toward desired goals. My role includes engaging all St. Paul Jewish agencies, institutions and synagogues in developing and implementing the Community Plan and its Five Priorities: Create a Warm, Welcoming Connections, Inspire Giving, Engage the Next Generation, Strengthen Jewish Education, and Enhance Cooperation between St. Paul and Minneapolis. I facilitate and guide the implementation of the community planning process and outcomes and ensure the process meets timeline goals. I also form, staff, and drive implementation committees for each community-planning outcome. My job is to engage and motivate stakeholders, inspire panel members, and recognize accomplishments. It includes coordinating among Federation volunteer leadership, professional staff, local agencies, and synagogues. Click here for more information about the Jewish Federation of Greater St. Paul: https://jewishstpaul.org/
<![if !vml]>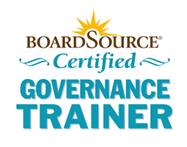 <![endif]>
I have also maintained by credentials as a BoardSource Certified Governance Trainer which enables me to continue providing nonprofit board governance training to nonprofits.
<![if !supportLineBreakNewLine]>
<![endif]>
Previously:
I was a Community Impact Associate at the Minneapolis Jewish Federation. I was responsible for ensuring the Federation's vision of a dynamic and caring Jewish community now and into the future through working with partner agencies, such as the Jewish Family and Children's Services of Minneapolis and the Minneapolis Jewish Community Center, to achieve powerful impact. The role involved researching and analyzing trends, best practices, and new initiatives. It also entailed staffing designated fund committees, including managing funding requests and allocations processes for maximum efficiency, effectiveness, and alignment with Federation, designated fund and community priorities. In the role, I identified and implemented improvements to funding policies and procedures and stewarded relations with and served as liaison to local Jewish agencies and synagogues. Click here for more information about the Minneapolis Jewish Federation Minneapolis Jewish Federation

  &nbsp Now &nbsp <![if !vml]>

<![endif]>
I worked as the Manager of Board & Volunteer Services for MAP for Nonprofits (Now "Propel Nonprofits). MAP/Propel is a 'management service' organization, which means it provides services and consulting to other nonprofits. Unlike other providers, it is a nonprofit. MAP stood for the Management Assistance Program. My job entailed managing the well-known board matching program, Best on Board, which linked people interested in serving on nonprofits boards with nonprofits looking for qualified and committed board members. In addition to that part of my work, I also helped nonprofit boards become more effective through delivery of public and custom training sessions.
I love the work I did a MAP. I got to see passionate people creating change and striving to improve critical areas of our society. By working with organizations like the Minnesota Companion Rabbit Society, the Minnesota Environmental Initiative, The Hemophilia Foundation of Minnesota & the Dakotas, The History Theater, etc. I also learned a heck of a lot about a lot of things!
My Books
I continue to be known nationally for my expertise in Nonprofit Life Stages and Focus Groups via my books. Through the Amherst H. Wilder Foundation in St. Paul, (the publishing arm which spun off and became Fieldstone Alliance), I published two books: The 5 Life Stages of Nonprofit Organizations: Where You Are, Where You're Going, and What to Expect When You Get There and The Wilder Nonprofit Field Guide to Conducting Successful Focus Groups. Both books have sold well over 5,000 copies.
Five Life Stages of Nonprofit Organizations
Conducting Successful Focus Groups
Resume:
Return to Simon Family Home Page
---
Updated 08DEC2017 CHS